REMANUFACTURING DIESEL ENGINES
We specialize in the remanufacturing of off-road diesel engines. We also supply most remanufactured on-highway diesel engines for trucks. In short, our professionally trained engine technicians take an engine core and completely transform it. They give it new parts, as needed, that meet or exceed OEM specifications.
See our remanufacturing process here.
Remanufacturing a diesel engine is often a great alternative to purchasing a new engine. Remanufacturing your engine allows us to build a complete drop-in for you. This reduces your labor costs to install and ensures a perfect fit. Remanufacturing is more cost-effective. Additionally, it is better for the environment!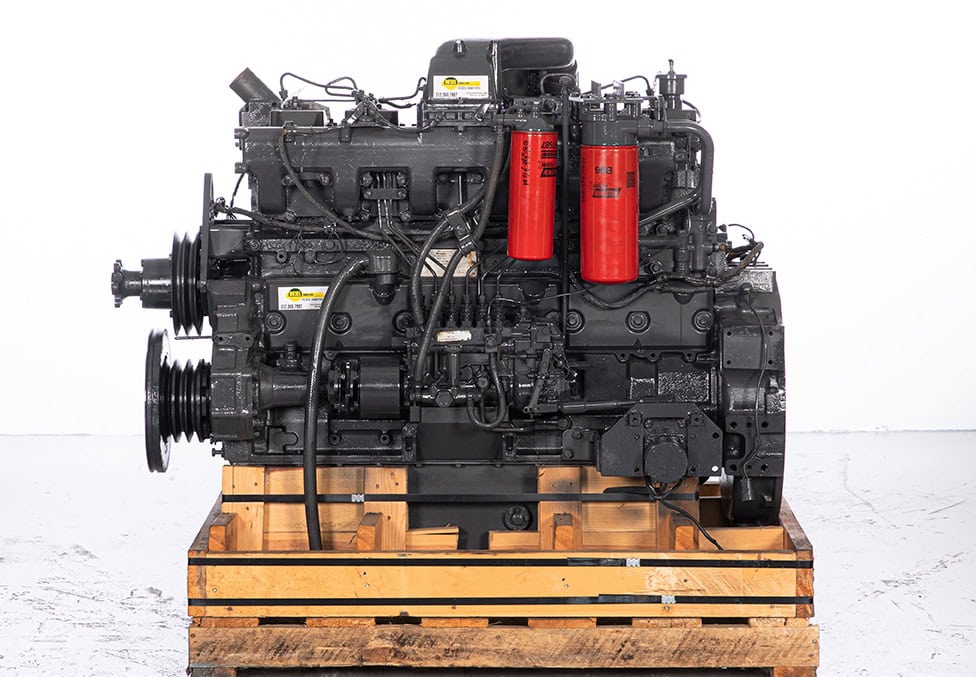 HOW OUR ENGINE TECHNICIANS REMAN YOUR OLD CORE
Upon receiving a core or a customer's old, used engine core, the engine is thoroughly cleaned. After that, it is then disassembled into component parts and inspected for damage. The block, head, crankshaft, and rods are sent to the machine shop, where these parts are put into a vat of degreasing solution. This step removes dirt and grease so that the parts can be inspected for cracks and other damage. Once the cleaning of these parts is complete, they are carefully inspected for cracks and other damage. If these parts pass inspection, they are machined to return to manufacturer specification. As a result, this ensures all parts are working as new.
THE MACHINED ENGINE CORE IS REBUILT WITH THE FOLLOWING NEW PARTS:
Once the engine rebuild is complete, all Diesel Sales remanufactured engines are Dyno tested. Dyno testing ensures the engine is ready to go to work, and all remanufacturing steps have been completed properly. Our remanufactured engines are Dyno tested for up to four hours, assuring the engine is running like new for our customers. During Dyno testing, the engine is inspected for leaks.
The break-in process begins while the engine runs on the Dyno. As the engine continues to run, it is warmed to operating temperature. Importantly, this tests the engine in stages while checking the oil pressure, water temperature, and exhaust temperature.
Once our engine technicians are certain the engine is ready and fit enough to be installed in a piece of equipment, the engine is shut down and drained of fluids. After a thorough cleaning, the engine is painted with OEM paint. Finally, once the engine is dry, it is shrink wrapped, crated, and shipped to the customer.
OUR FACILITY for remanufacturing diesel engines
We have over 40,000 square feet, in our 100,000 square foot warehouse, dedicated to remanufacturing our Diesel Sales engines. The Diesel Sales engine technicians operate our reman facility six days a week, to ensure fast turn-around times for our customers. After all, time is money!
We warranty everything we sell and Diesel Sales remanufactured engines come with a limited parts and labor warranty: one year or 2000 hours, whichever occurs first!
REMANUFACTURING DIESEL ENGINES
GIVE US A CALL FOR A QUOTE!
For fastest results have your make, model and serial number available for your engine or transmission.
312.368.7997